Hydraulic Hacksaw Machine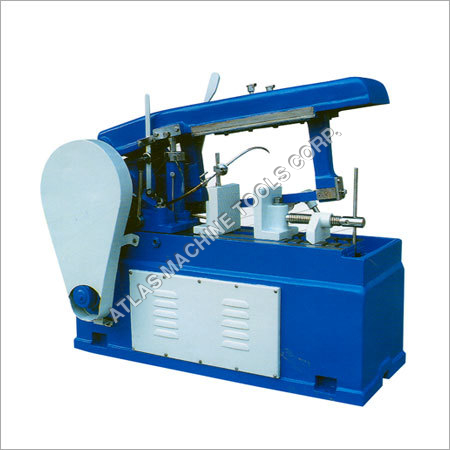 Hydraulic Hacksaw Machine
Hydraulic Hack saw Machine
We are a leading manufacturer and exporter, engaged in offering a wide gamut of high grade machines. These machines are known for offering better performance in almost all working environments. Hydraulic Hacksaw Machine is precision engineered and fabricated as per industrial standards. Highly durable and superbly functional Hacksaw Machine can perform as per the requirements. Our delivery and packaging system is highly developed which ensures safe and sound procurement of heavy duty machines. Hydraulic Hacksaw Machine is available with below given important features.
Saw Frame: This is rigid construction & runsin prismatic guide ensuring a parallel cut. This cut takes place on the draw stroke & hydraulically lifted out of contact with the workpiece on the forward stroke to prevent wear or the blade & cut out metals of all kinds & strength.

Feed: Two leavers are provided at the pot one regulators the rate of feed while the other enabled the bow slide to be raised or forwarded hydraulically bow raised automatically & motor switched off on completion of the cut.

Bed: The bed is of large production provided with guide ways for the vice for clamping the material vice is of rigid constructional. One jaw remains fixed & the other can be adjusted according the material to be ctu.

Electrical Equipment: A direct on line push button starter can be lifted which incorporates & adjustable trip mechanism which stops the machine as soon as the blade is clear from the work non productive time is reduced to minimum.

Drive: Power is supplied by a suitable electric motor through vee-Belts which are full adjustable for tension all drive mechanism being totally enclosed.

Speed: The incorporation of two speed driving mechanism allows for the most suitable speed to selected for material being cut.

Coolant: The coolant tank is totally enclosed in the machine base & speed pump supplies coolant to the saw blade through a stay put pipe & top.
| Size | AMTC-7" | AMTC-8" | AMTC-10" | AMTC-12" | AMTC-14" | AMTC-16" | AMTC-18" | AMTC-20" | AMTC-24" |
| --- | --- | --- | --- | --- | --- | --- | --- | --- | --- |
| Stroke | 5.5" | 5.5" | 5.5" | 5.5" | 5.5" | 5.5" | 5.5" | 5.5" | 5.5" |
| No. of Stroke per min | 100-120 | 100-120 | 85-100 | 85-100 | 75-85 | 75-85 | 60-85 | 60-85 | 60-85 |
| Length | 3'-2" | 3'-2" | 3'-10" | 4'-2" | 4'-6" | 4'-10" | 4'-10" | 5'-6" | 5'-6" |
| Breadth | 1'-4" | 1'-3" | 2'-3" | 2'-5" | 2'-5" | 2'-5" | 2'-5" | 2'-6" | 2'-6" |
| R.P.M | 1440 | 1440 | 1440 | 1440 | 1440 | 1440 | 960 | 960 | 960 |
| Blade Size | 12"-14" | 14"-16" | 16"-18" | 18"-20" | 20"-22" | 22"-24" | 24"-26" | 28"-30" | 30"-36" |
| Capacity of Round Bar | 7" | 8" | 10" | 12" | 14" | 16" | 18" | 20" | 24" |
| Capacity of Square Bar | 5" | 5 1/2" | 8" | 10" | 11" | 13" | 14" | 15" | 18" |
| Electric Motor Required | 1 H.P. | 1 H.P. | 2 H.P. | 2 H.P. | 3 H.P. | 3 H.P. | 5 H.P. | 7.5 H.P. | 7.5 H.P. |
| Height | 3'-8" | 1'-8" | 3'-6" | 3'-6" | 4'-6" | 5'-0" | 5'-6" | 6'-0" | 6'-0" |
Contact Details
G.T. Road, Dholewal, Opp. Military Camp, Ludhiana - 141003, Punjab, India
Phone : +917259510531
Fax : 91-161-2531088
Mr. Amandeep Singh Soni/Jagtar Singh Soni
Mobile : +917259510531
| | |
| --- | --- |
| | ATLAS MACHINE TOOLS CORPORATION All Rights Reserved. |